José Miguel Pérez-Sierra
Conductor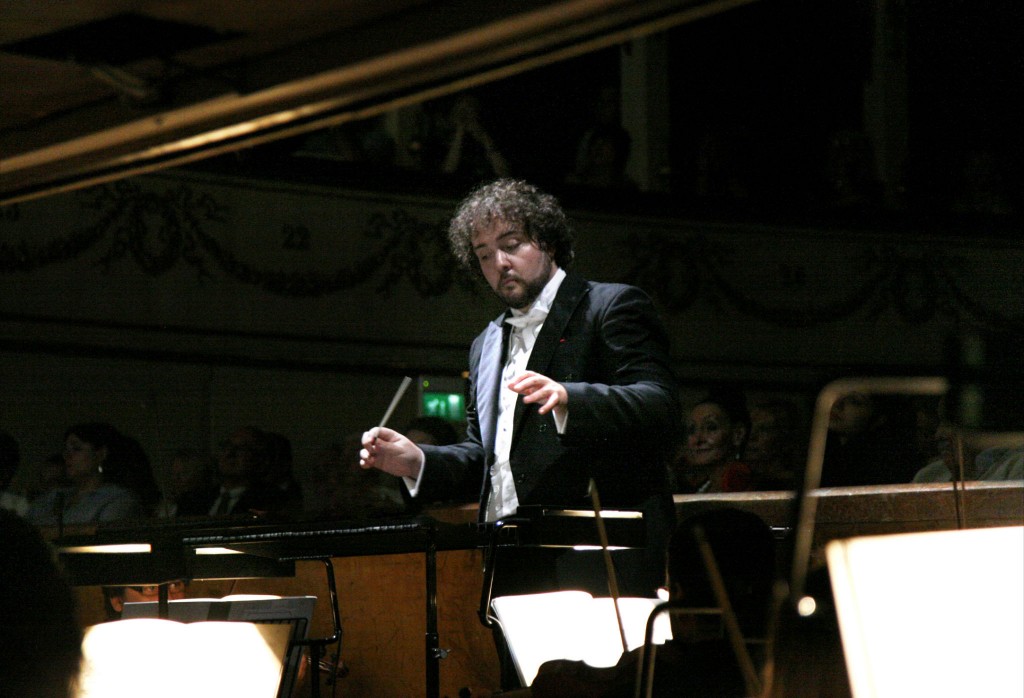 The Spanish conductor José Miguel Pérez-Sierra shot to fame internationally after becoming the youngest conductor to take the podium at the ROF, the Rossini Opera Festival in Pesaro (Italy), where he conducted Il viaggio a Reims in 2006. That was the beginning of a vertiginous career which has taken Pérez-Sierra to theatres and auditoriums of Spain, Italy, France, Germany, Portugal, Georgia, Uruguay, Canada and Chile, among others, conducting an extensive opera and symphonic repertoire. He studied with Gabriele Ferro, Gianluigi Gelmetti, Colin Metters and Alberto Zedda. From 2009 to 2012 he had a close and fruitful relationship with Lorin Maazel. His debut as a conductor was in 2005 with the Orquesta Sinfónica de Galicia and since then he has been a regular guest conductor at Théâtre des Champs Elysées in Paris, Palau de la Música in Valencia, Gran Teatre del Liceu in Barcelona, Teatro Real and Teatro de La Zarzuela in Madrid, Ópera de Oviedo, AGAO in Pamplona, Amigos de la Ópera de A Coruña, Ópera de Las Palmas de Gran Canaria, Teatre Principal in Palma, Majorca, ABAO-OLBE in Bilbao, T. Municipal in Santiago de Chile, Rossini Festival in Wildbad, Städtische Theater Chemnitz, Teatro San Carlo in Naples, The Puccini Festival of Torre del Lago, Auditorium Comunale in Sassari, Teatro Verdi in Trieste, Festival Musique en Côte basque in Saint-Jean-de-Luz, Opéra de Reims and Opéra-Théâtre in Metz. Some of the orchestras with which he habitually collaborates include the Orquesta Nacional de España, Orchestre National d'Ile-de-France, Orquestra de la Comunitat Valenciana, Sinfónica de Madrid, Orquesta de RTVE, Filarmónica de Gran Canaria, Oviedo Filarmonía, Orquesta de la Comunidad de Madrid, Sinfónica de Navarra Pablo Sarasate, Sinfónica de Castilla y León, Sinfónica de Tenerife, Orquesta de Córdoba, Simfònica de les Illes Balears, Orquesta Clásica de España, Sinfónica de Tiblisi, Filarmónica de Montevideo, Filarmónica de Santiago (Chile), Robert Schumann Philharmonie, Orquesta del San Carlo de Nápoles, Virtuosi Brunensis, Orquesta do Norte and Euskadiko Orkestra Sinfonikoa.
José Miguel Pérez-Sierra's 2021-2022 season includes a Concert alongside the Orchestre National de Metz, a Concert with the soprano Lise Davidsen and Pagliacci (Leoncavallo) at the Ópera de A Coruña; the opera Marina (E. Arrieta) and a Symphonic Concert alongside the Orquesta Sinfónica de Navarra at the Baluarte in Pamplona; his return at the Opéra de Marseille with Armida (Rossini); his house debut at the Grand Théâtre of Luxembourg with Carmen; El barberillo de Lavapiés (Barbieri) at the Teatro de la Zarzuela in Madrid; a symphonic concert with the Krakow Philharmonic Orchestra; Armida at the Royal Opera Festival in Krakow and Armida at Rossini in Wildbad Opera Festival.